A0 drawing folding machine
The PFM 220 is innovative A0 drawing folding machine  able to fold  large format documents,  plot and copies printed by any type of printer can easily folded to A4 size.
The product advantages are:
a large table allowing  high-speed folding operation and when the product is not in use can be closed to reduce the footprint.
the touch screen control panel providing easy control and panel quality setup a
the possibility to install a manual cutting device make the paper A0 drawing folding machine a unique integrated solution.
This  A0 drawing folding machine is designed for mid to high copy volume with a high folding speed and comparing it to other products this product provides the possibility for the user to customize the copy feed speed in order to facilitate a perfect copy alignment and an excellent fold process.
A0 drawing folding machine main features
Maximum productivity, thanks to the large table designed to enable an uninterrupted workflow at 15 A0 / E-size / minute.
Professional A0 folding machine for small and large format documents in black and white and color.
Wide choice of folding patterns, styles and customizable programs according to the needs thanks to the touch screen control panel; ability to fold a wide range of prints (graphics and CAD).
Unlimited First fold operation by module of 5 meters with a single hand fold it's possible to get 10 meters precily folded.
Second Cross fold  up to 3 panels and thickness of up to 10 panels that means to complete higher percentage of document folded to the desired package.
Quiet and reliable referring to other similar solution.
Manual cutting device for trimming documents optional.
Fill the form to discover why our machines do not require  service engineer for the installation or maintenance.
Select our Shop to see amazing price and conditions
See our advantages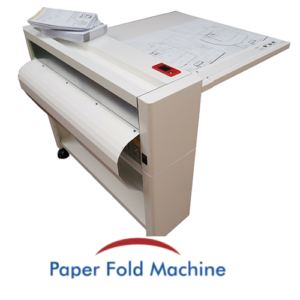 2
large table to easly feed document wide
3
Stand with wheels and brake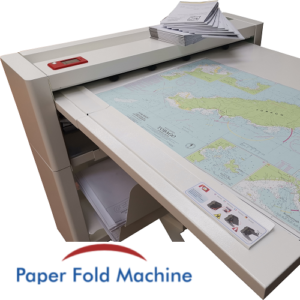 1
easy access for paper removal
2
front and rear copy basket
All copies folded delivered to the front
Select and edit fold parameters easily
Select panel style preferences